Winter Solstice
December 04, 2021
5:00 PM
About the Concert
A Winter Celebration of the Sun
Throughout history, societies across the world have held festivals and ceremonies marking the winter solstice, the day of the sun's "rebirth". Winter solstice celebrations often honored the symbolism of nature, fire, and light, along with life, death, the rising sun, and the moon. 
The Tampa Bay Symphonic Winds 
 "Glaciers" by Scott Director demonstrates the wonder of nature as told through five musical vignettes. This piece conjures the image of incredible ice formations, and later we hear the destruction of the massive ice structure as it crashes into the sea with the rising sun. 
Another selection, "Snow Caps" by Richard Saucedo, draws musical inspiration from the awe-inspiring, snowy peaks reflecting the sun's glow off the Rocky Mountains. Richard Saucedo has composed an invigorating work for concert band that is energetic, contemporary, and uplifting.
These selections and several others performed by the Tampa Bay Symphonic Winds will captivate the audience to imagine vivid, snow-covered landscapes in the process of change during the Winter Solstice. 
Saturday December 4th, 2021.
Doors open at 4:30 and the concert will begin at 5:00pm
Tampa Bay Pride Band and Tampa Bay Symphonics Winds is a 501(c)3 organization that is accepting donations
Tickets $10 Online and $15 at the door. Children 12 and under are free.
Visit our website for more information about the ensemble at www.tampabayprideband.com
Program
Program to be announced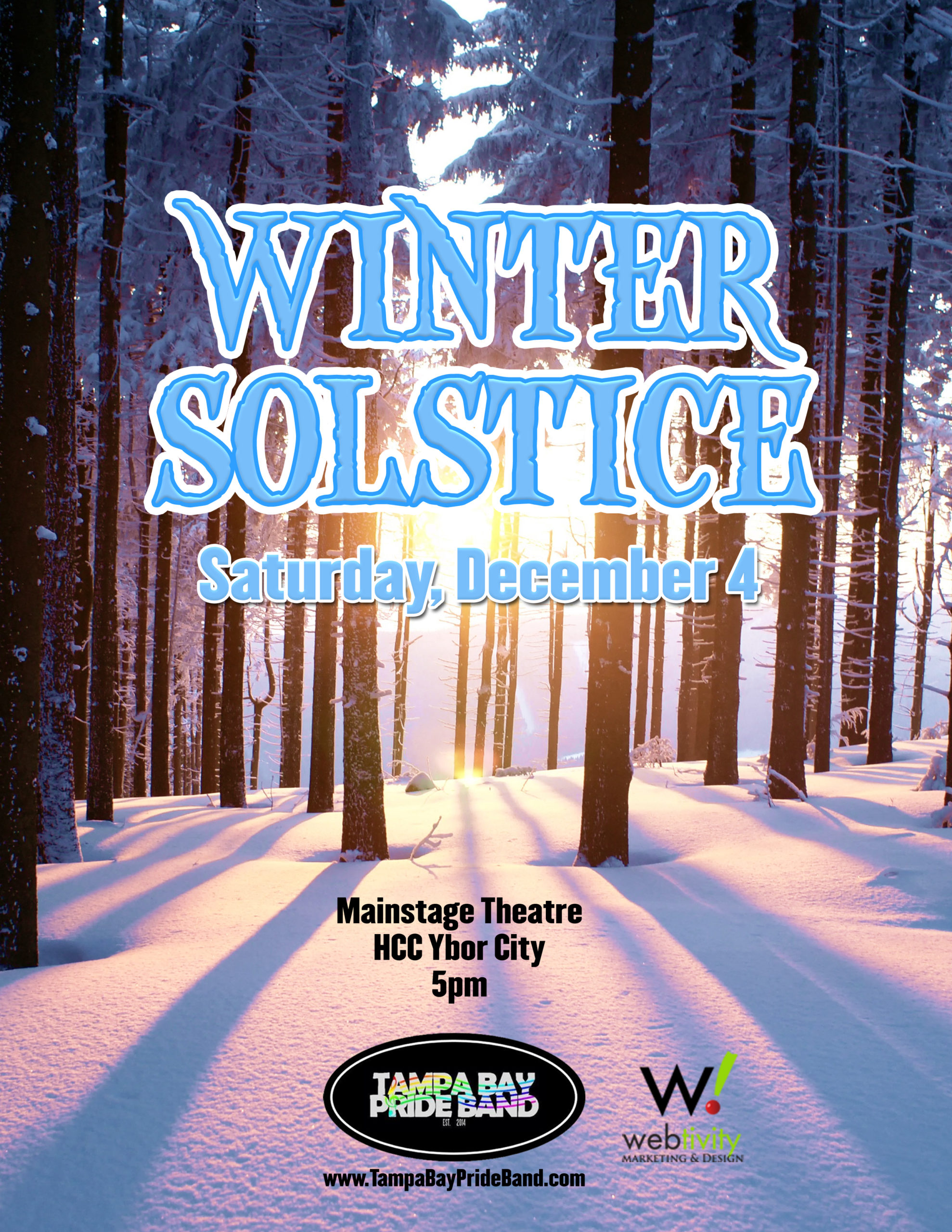 Purchase Tickets
Event Venue & Location
The campus is minutes away from downtown Tampa and easily accessible to all sections of the county via Interstate 4, Interstate 275, State Highway 60, and the Lee Roy Selmon ... The campus has a top notch Performance Arts Building, which features studios, classrooms, band room, gallery, theatre and auditorium.
HCC Ybor City Performing Arts Building
1411 E 11th Ave Tampa Florida 33605
Other Upcoming Events