Pride Music and Art Festival 2021
May 16, 2021
1:30 PM
$15 in advance, $20 day of the festival
About the Concert
Tampa Bay's very own Tampa Bay Pride Band and Tampa Bay Symphonic Winds is hosting the 4th Annual Pride Music and Art Festival. The festival takes place on Sunday. May 16th from 1:30pm–6pm at the Cuban Club in Ybor City. The Art Festival will begin 1:30pm with talented artists around the Tampa Bay area. The artwork presentation is created, procured, and coordinated by LaTonya Hicks. There will be refreshments, full bar, and a silent auction. The festival will conclude with Tampa Bay Pride Band's very own Tampa Bay Symphonic Winds.
They will take the stage at 4 pm performing "Affirmation," The Tampa Bay Symphonic Winds contribution to the 2021 Pride Music and Arts Festival is centered around a musical interpretation of the diversity of our band, the LGBTQIA+ Community, and the Tampa Bay Area itself. This year's theme of "Affirmation: Peace, Love, and Music," will be the inspiration for bringing people together to celebrate love, diversity, art, and music. In this year's program, we will feature works by African American composers, such as composer Katahj Copley's 2019 composition "Sunshine" and also Kevin Day's "Hymn for Peace".
The origins of Copley's Sunshine comes from a moment in his life where he had the most doubt within himself. This doubt was the source of his depression and angst. However, there was a person who helped him out of this dark place and would later become his sunshine. Sunshine is his ode to the sun and the many colors it can show throughout the world (www.katahjcopleymusic.com/sunshine).
Sunshine (2019) | Katahj Copley Music
"The origins of this piece come from a moment in my life where I had the most doubt in myself. I was severely depressed and couldn't really handle the stress that was in my life. However, there was a person who helped me out that darkness; this person would later become my sunshine."~Katahj Copley
"A Hymn for Peace was composed in 2017 and based on my piano composition Breathe. I wrote the composition during a very difficult period in my life. I was battling severe mental health issues, was struggling in university, and at that time my life seemed like it had no direction and I was losing myself. However, two individuals who were there to give me hope were Debbie and Mark Alenius. Through many different instances they helped me gain a sense of belonging and hope, and truly have been a blessing to me. This is why I have chosen to dedicate the piece to them."
"A Hymn for Peace is literally what the title portrays. For anyone going through a difficult time, I hope that this work gives you the strength to continue and ultimate give you peace. There is light at the end of the tunnel." ~Kevin Day.
Within the idiom of wind band music, our concert theme gives us a unique opportunity to be a positive example to affirm Peace through the universal languages of art and music, Love by connecting with and expanding our community outreach, and create transcendent experiences through the spectrum of Music to the Greater Tampa Bay area.
Sponsored by

With the Support of: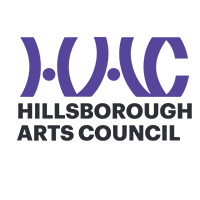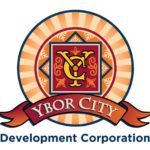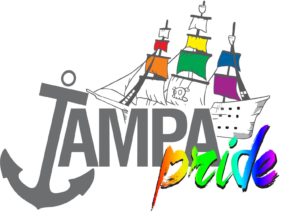 Program
Just Flyin! by Julie Giroux
Sunshine by Katahj Copley
Strange Humors by John Mackey featuring Daniel Melendez on Djembe
Hymn for Peace by Kevin Day
Lights Out by Alex Shaprio
Affirmation (Peace, Love, and Music) by Randall Standridge with student soloist Brayden Mandel on Alto Saxophone from Barrington Middle School
Paconchita by Oscar Navarro
Featured Artist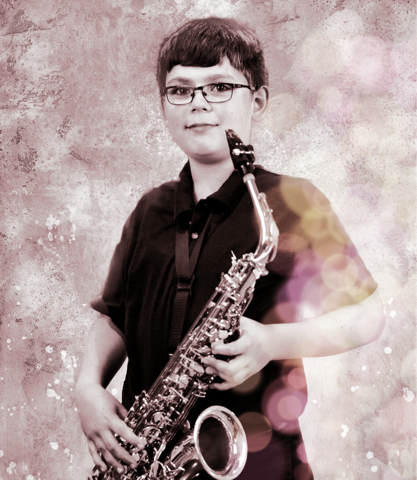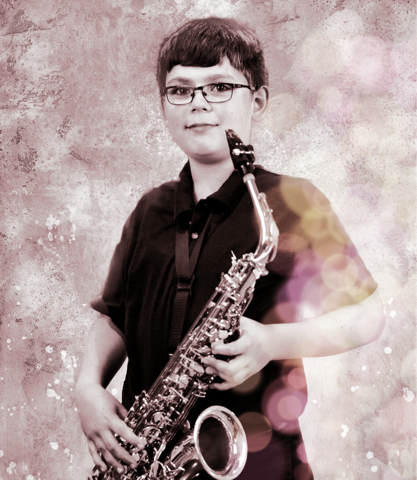 Brayden Mandel
Brayden Mandel is currently an 8th grade band student at Barrington Middle School. He has played alto saxophone for the past two and half years. He is a superior rated soloist by the Florida Bandmaster Association in 2019 and principal alto saxophone in the Barrington Advanced Band and Thunderbolt Jazz Ensemble.  Next year he will join the Wolfpack Band at Newsome High School.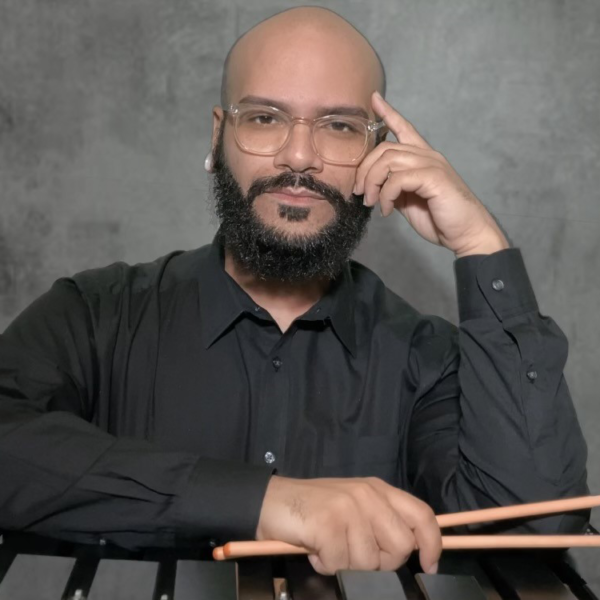 Tampa Bay Symphonic Wind Principal Percussionist
Daniel Melendez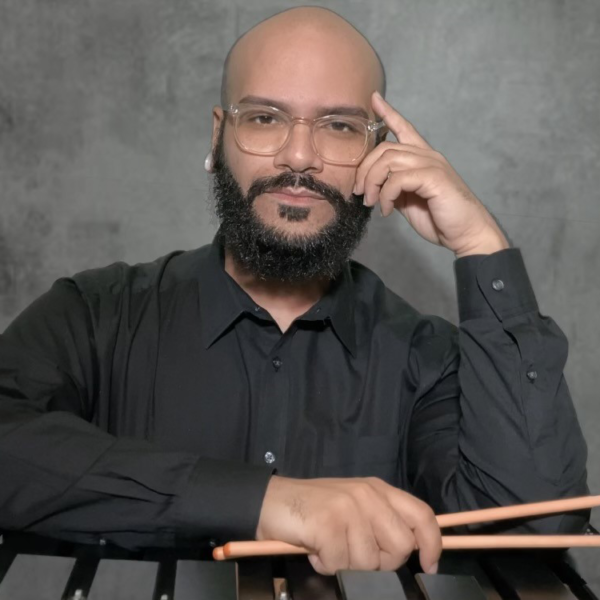 Tampa Bay Symphonic Wind Principal Percussionist
Daniel Melendez
Daniel Melendez is a percussionist, educator, and arranger based in Tampa, FL. Daniel graduated from the University of North Florida with a Bachelor's Degree in Percussion Performance, studying with Prof. Charlotte Mabrey and Prof. Kevin Gary. During his time at UNF, Daniel participated and performed in master classes with world-renowned percussionists such as Leigh Howard Stevens, Gordon Stout, Bob Becker, and Michael Burritt.
Since moving to Tampa, Daniel has been teaching middle school and high school percussion ensembles, marching bands, and directing the indoor percussion program based in Riverview, FL. Daniel's private lesson studio caters to students of all ages and specializes in drum set, Latin percussion, and orchestral percussion.
Daniel has written, illustrated, and self-published two percussion method books: Beginner's Guide to Percussion, a quick reference guide to percussion instruments, and Drumming in Color, a colorful guide to the drumset for beginners of all ages.
As a performer, Daniel serves as principal percussionist for both the Tampa Bay Pride Band and Symphonic Winds and the Tampa Brass Band, and he is an active member of the Florida Wind Band. He has also performed in the 2018 and 2019 Gasparilla Music Festival with the Tampa Metropolitan Youth Orchestra. In 2019, Daniel performed in the Lesbian and Gay Band Association's annual music conference "Looking back, Marching forward" in Orlando, FL, including the world premiere of My Soul to Keep by Julie Giroux.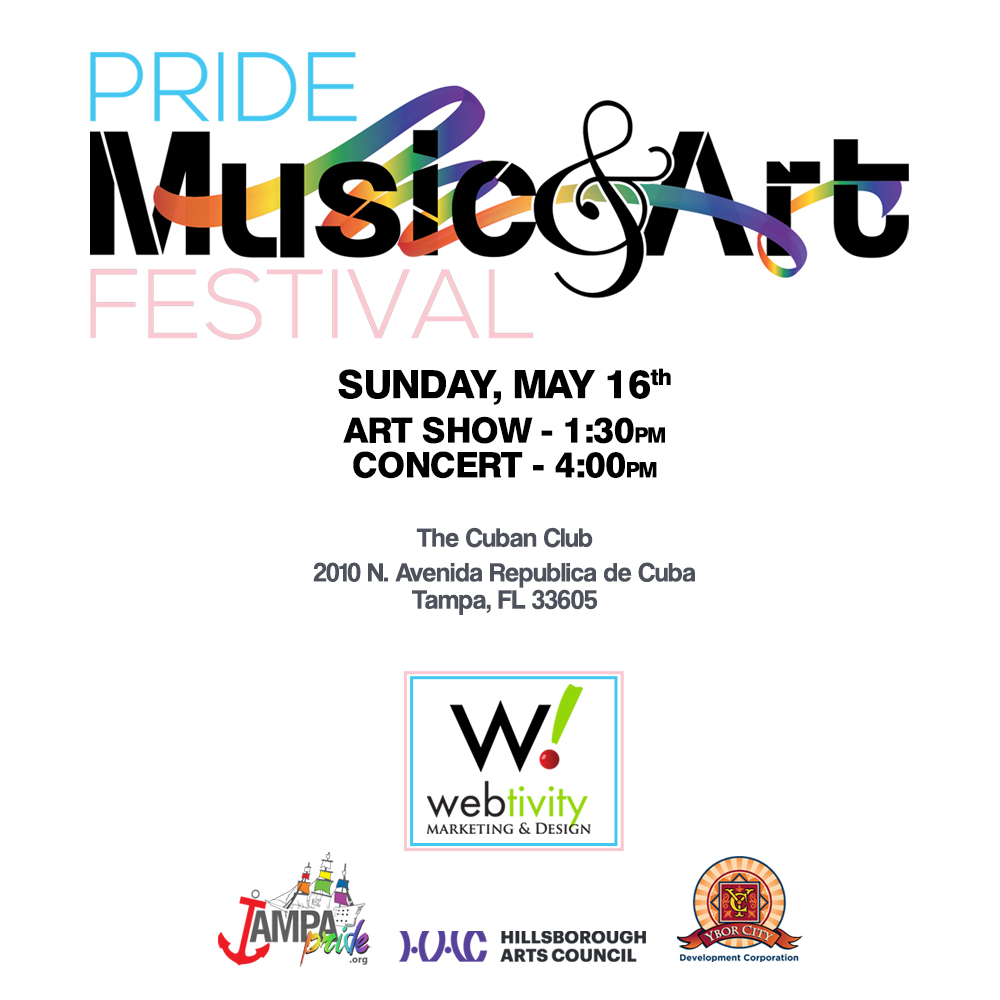 Purchase Tickets
Event Venue & Location
Ybor City District
The Cuban Club
2010 N. Avenida Reublica de Cuba Tampa Florida 33605
Other Upcoming Events