A Tribute to Stonewall 50th Anniversary Concert
September 28, 2019
5:00 PM
$10.00
About the Concert
A Tribute to Stonewall (50th Anniversary)
In the early morning hours of June 28, 1969, a riot followed a police raid on the
Stonewall Inn gay club in Manhattan. A legacy of inequality and harassment against the
LGBTQIA+ Community finally reached a tipping point as a wave of activism began to
sweep across the nation, giving birth to what would evolve to become Gay Pride
celebrations.
The Tampa Bay Pride Band had its first-ever performance at the rebirth of the Tampa
Pride festival in 2014. Born during the wave of acceptance and civil rights gains of the
Obama Administration, the band grew rapidly, building upon its mission to support
community outreach in addition to creating outstanding performance opportunities for
members. Taking inspiration from transgender activist Marcia P. Johnson, who is
credited as being a leader of the Pride Movement, the Tampa Bay Symphonic
Winds/Tampa Bay Pride Band will celebrate the 50th Anniversary of this pivotal event
with a program of classic band literature and original compositions themed around
Pride, Equality, and Activism. Working in conjunction with the Lesbian Gay Band
Association for it's 2019 International Conference in Orlando, the TBSW will take part
in the world premiere of a new work by American Composer Julie Giroux honoring the
victims of the Pulse Massacre of 2016, as well as the new work "A Mother of a
Revolution" by rising young composer Omar Thomas.
In the ensuing five decades since the Stonewall Riots, Pride Celebrations and
community activism have taken on equality injustices in America. While there have been
many victories, the current world political climate highlights the importance of the
Tampa Bay Pride Band's mission "Empowered by Pride. United by Community. Inspired
by Music."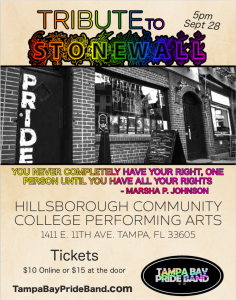 Program
City Trees by Michael Markowski Conductor David Triplett-Rosa
Mother of a Revolution by Omar Thomas Conductor David Triplett-Rosa
The Girl I left Behind Me by Leroy Anderson Conductor John O. Davis
Give Us This Day by David Maslanka Conductor David Triplett-Rosa
Machine Awakes by Steven Bryant Conductor John O. Davis
Solas Ane by Samuel Hazo Conductor John O. Davis
Sleep by Eric Whitacre Conductor David Triplett-Rosa
Featured Artist